Sweet and sour Q.li di Treviso in oil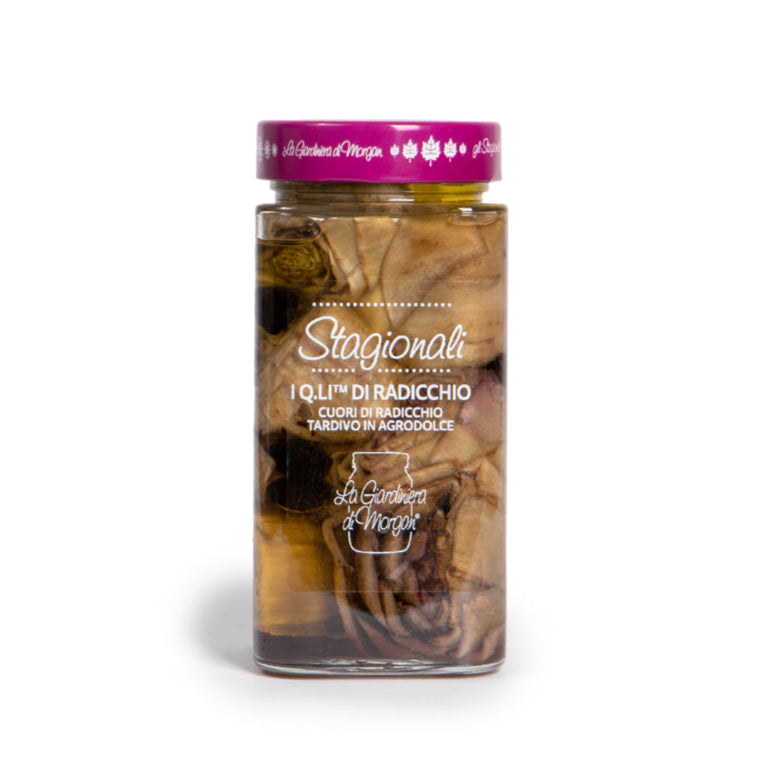 Radicchio roots seasoned with Myrtle and Liquorice
Late harvest radicchio hearts, meticulously processed to bring out their texture and flavour, thus creating a gourmet product. Bitter radicchio notes and the aromatic qualities of myrtle berries and liquorice, with a touch of vinegar for a rounded flavour.
Ingredients
late harvest radicchio 51%, sunflower oil, extra virgin olive oil, white wine vinegar, water, whole sea salt, sugar, myrtle berries, liquorice.
How to use
Exceptional with pasta dishes, with grilled red meat, mature and blue cheeses, duck breast, roast white poultry meat, or hot, crusty durum wheat bread.
How to keep it
Store it in a cool place away from sources of light. Pasteurized product.
Nutritional values
Energy value: 438 kj - 106 kcal
Fat of which saturated: 8,1 g – 0,7 g
Carbs of which sugars: 4,5 g – 4,19 g
Proteins: 2,4 g
Salt: 2,2 g
Additional info
Format: 580 ml
Shelf life: 16 months from production date
Net weight: 560 gr
Drained weight: 420 gr