Roasted Tongue Millefeuille and Giovanni's Giardiniera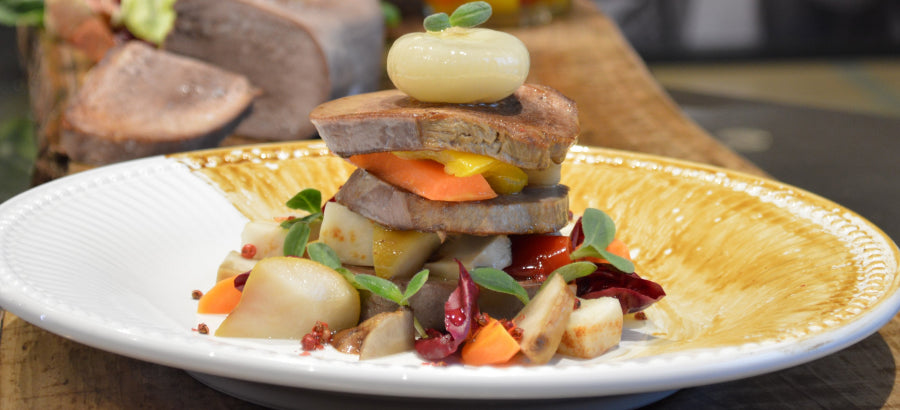 Who says that the millefeuille  should be only a dessert? Actually it is a recipe that lends itself to a lot of  dishes. Our calf tongue is an italian traditional recipe. For those who loves it here's a tasty recipe.
For those who haven't tried yet, this is the moment do it: the tenderness of the tongue and the crust fragrance is perfectly combine with the crunchiness of the Giovanni's Giardiniera.
Seeing is believing!
Ingredients per 4 persons
Veal tongue
1 Celery stalk
1 Carrot
1 Onion
La Giardiniera di Giovanni
Fiore di Sale
Black Pepper
Procedimento
Prepare the fresh tongue: immerse it in a large pot with salt, an onion, a leg of celery, a carrot and a bay leaf, leaving it to cook for about 2 hours.
Once cooked, cut the tongue into slices about 1 cm thick, then sear them in a non-stick pan for 1 minute on each side until you get a nice crust.
Plate the mille-feuille on the plate, alternating the slices of tongue with La Giardiniera di Giovanni, being careful to put all the elements, including fruit (it will give a special touch to the dish!).
Garnish with sprouts or wild radicchio. An aromatic and structured white wine is ideal to accompany this preparation.