Basilicata coast to coast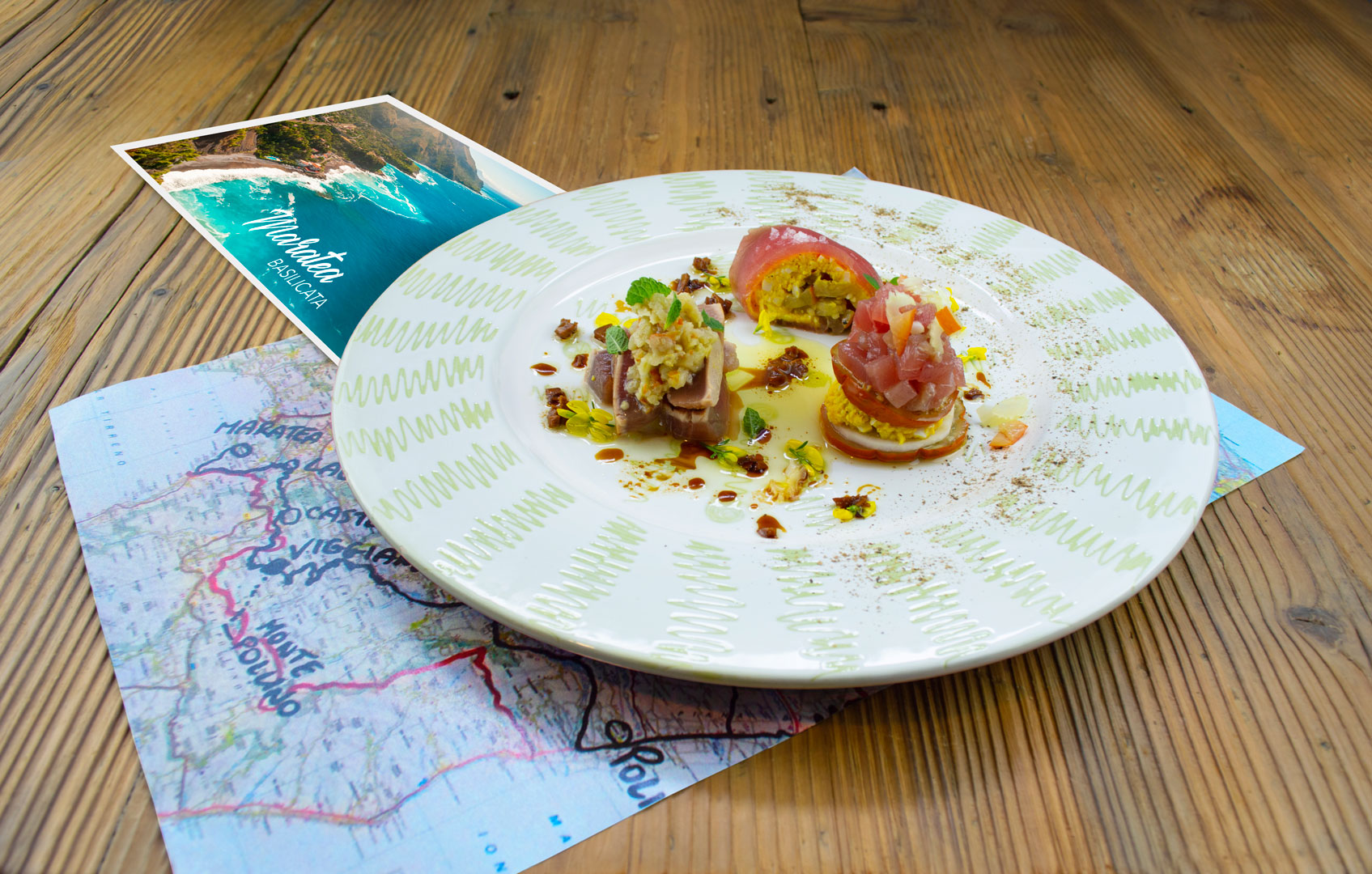 After days of endless rain, Summer seems almost a mirage and yet it is ready to knocks at our doors. For now we must be content with the last year post card: the crystalline water, the golden sand, the fresh fish and the air that smells of the sea. Are you seeing this?
That corner of paradise at the foot of Italy where the Ionian see meets the Tyrrhenian sea. Yes, right here, in Basilicata: a coast to coast travel among the spices and perfumes of this land.
The freshness of the fish united with our Rotonda Red Aubergine The journey begins in one gulp!
Ingredients per 2 persons
Tonno crudo 300gr
Melanzana Rossa di Rotonda DOP
Pesto di Melanzane rosse di rotonda DOP
Uova sode
Ricotta di bufala
Menta fresca
Zenzero
Salsa di Soia
Olio Evo
Procedimento
Far Bollire le uova
Lavorare le uova con la ricotta fino a ottenere una consistenza cremosa, aggiustare di sale.
Tagliare il tonno crudo in fette spesse 1 cm, adagiarvi sopra la melanzana e sulla melanzana le uova mantecate; avvolgere la fetta di tonno su se stessa fino ad ottenere un involtino.
Prendendo dell'altro tonno, tagliarne una fetta da 1,5 cm e cubettarlo per ottenere una tartare. Con le melanzane rosse creare una millefoglie intervallando l'uovo cremoso.
Per l'ultima versione, scottare il filetto scaloppato, non troppo fine, in padella con olio Evo, due minuti per lato.
Guarnire con una salsa ottenuta con zenzero tritato, salsa di soia, olio evo in parti uguali mescolati gentilmente con un cucchiaio.
Finire con foglie di menta fresca e un generoso cucchiaio di pesto di melanzane