We respect nature and its cycles. For this reason, we work our vegetables following the trend of the seasons and creatively reinterpreting what the land has to offer: the fruits of the Veneto territory, which accompany us during the year.
Sweet and sour red onions and capers in oil 310ml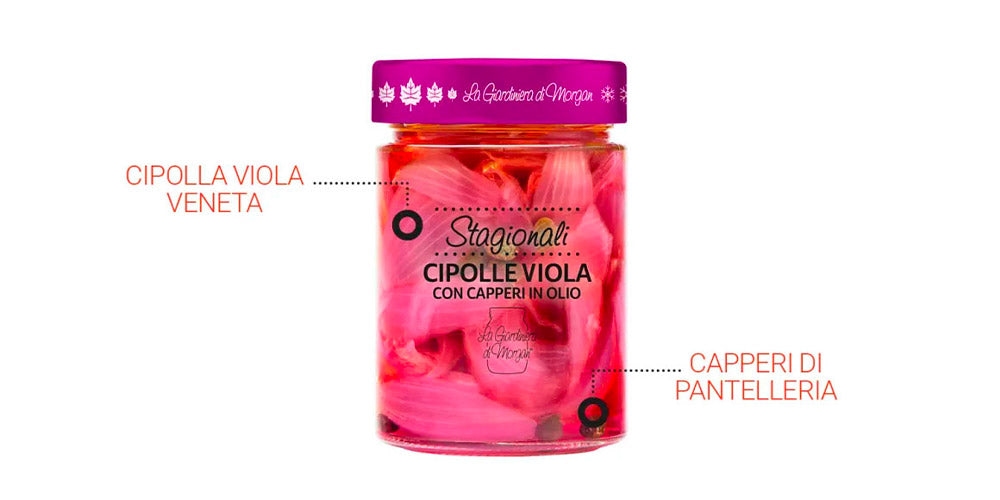 When purple Venetian onions meet the capers of Pantelleria, Northern and Southern Italy, the colours and scents of two lands meet and the result can only be an extraordinary and delicious recipe. With the addition of white wine vinegar, water, sugar, Cervia salt, extra virgin olive oil and organic sunflower oil and voila'!

Combinations

Traditional cold cuts, durum wheat bread, fresh bluefish. Excellent also in seasonal salads and with burrata.
Sweet and sour Q.li di Treviso in oil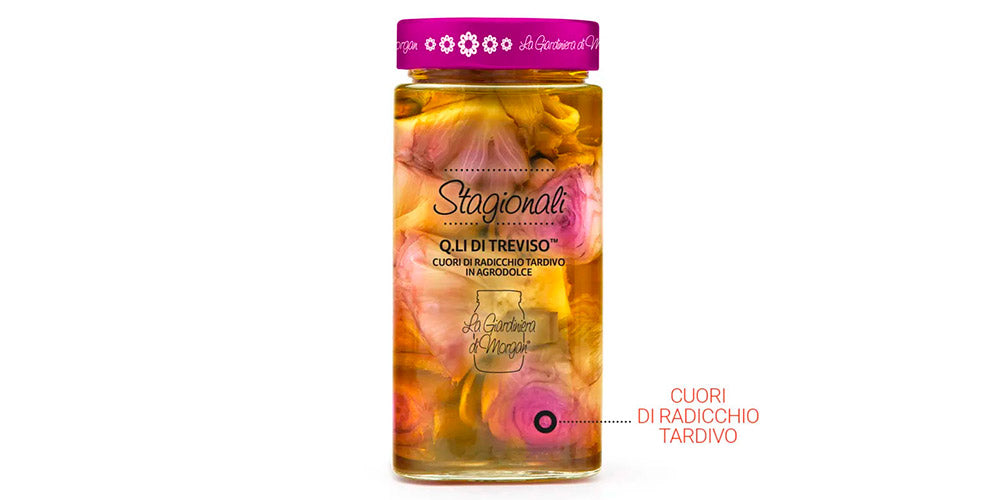 When the bitter notes of the hearts of Treviso red radicchio are combined with the sweetness of myrtle and liquorice, the result can only be extraordinarily colourful and curious. Combine white wine vinegar, Cervia salt, extra virgin olive oil and sugar and the harmony of flavours is ready to be served at the table.

Combinations

Grilled red meats, aged or blue cheeses, duck breast or roasted white meat from the courtyard, with crunchy durum wheat bread.
Radicchio hearts aren't usually used, but Morgan did a little magic and reinvented them in gastronomic excellence. Alchemy was so unrepeatable that it deserved a patent.
Sliced sweet and sour Q.li in oil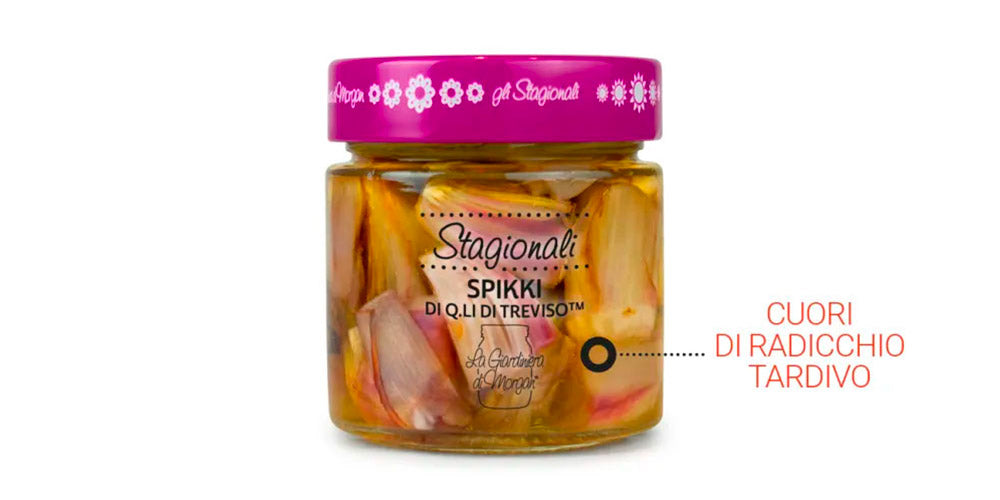 The Q.li of Treviso can also be enjoyed in segments in this version flavoured with garlic.

Combinations

Interpreted to enhance their texture and flavour, they are delicious combined with salted meat, bresaola, cooked shoulder, grilled meats, gorgonzola and baked fatty fish.
Morgan's sweet and sour late harvest radicchio in oil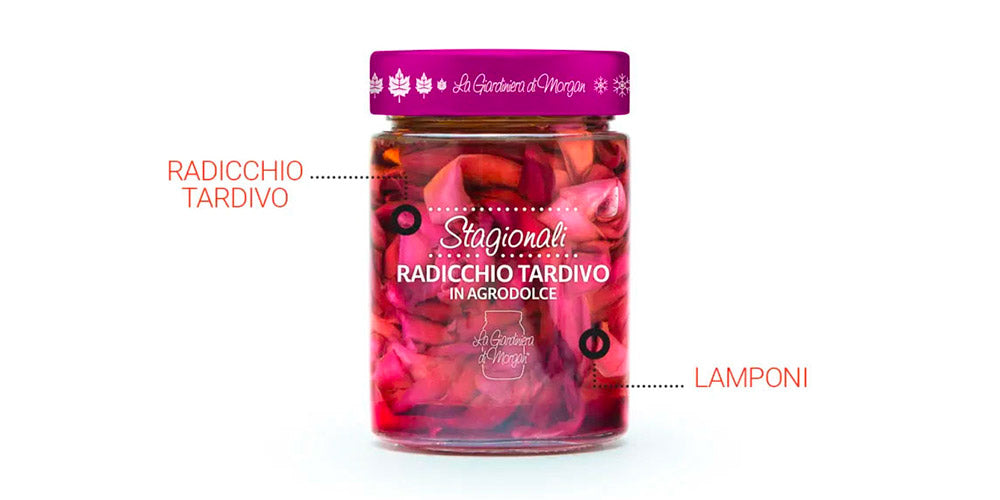 The flower of the Venetian winter, late red radicchio and its aromatic flavour embrace the sweetness of raspberry and meet white vinegar, water, salt of Cervia, extra virgin olive oil and organic sunflower oil.

Combinations

Salumi, pizzas and gourmet breadmaking, grilled beef cuts, aged hard cheeses, goat or taleggio.
Morgan's Horseradish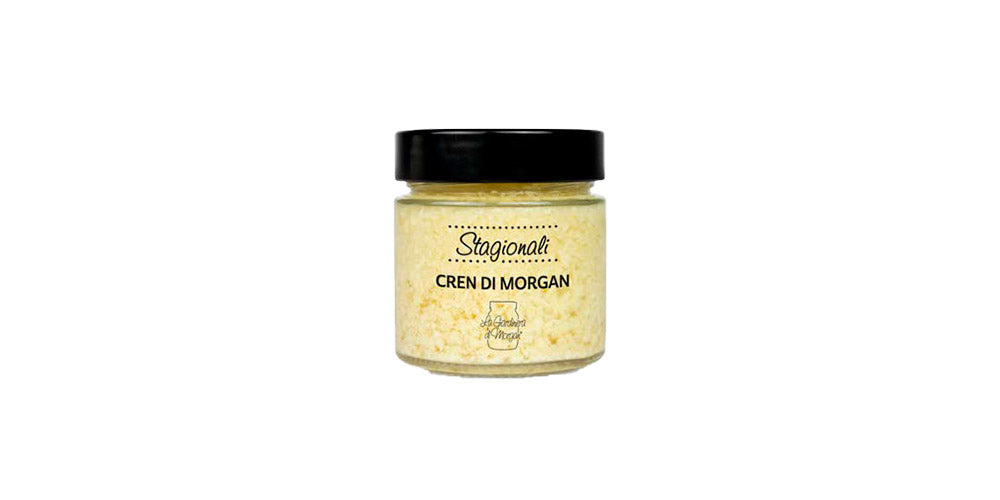 For our horseradish, we have chosen a clean and preservative-free path, so that we can present a product made as before in winter tables, but with our sweet and sour soul and our personality. This choice of cleanliness and transparency could cause a slight and natural change of colour or shade in the life of the product. Horseradish is a perennial herbaceous plant, whose root is used, which is grated and prepared in different ways. Known for its medicinal and antibacterial properties, the horseradish root is very fleshy, has brownish, wrinkled and pleated skin, while the pulp is firm and cream-white. Horseradish contains oil that gives it its characteristic spicy flavour and a particularly harsh aroma reminiscent of that of mustard.
The next production is scheduled for October 2022
Availability: October - February