Crunchy, unusual and rich in colour like the palette of a painter: Morgan's Excellencies contain all the aromas and flavours of the best vegetables of Italian tradition. Here, only one rule applies: combining creativity with the use of excellent raw materials, discovering new, intoxicating nuances of taste. The Excellencies are the result of Morgan's long journeys around Italy in search of unprecedented, surprising vegetables to reinvent.
Rotonda Red Aubergine P.O.D.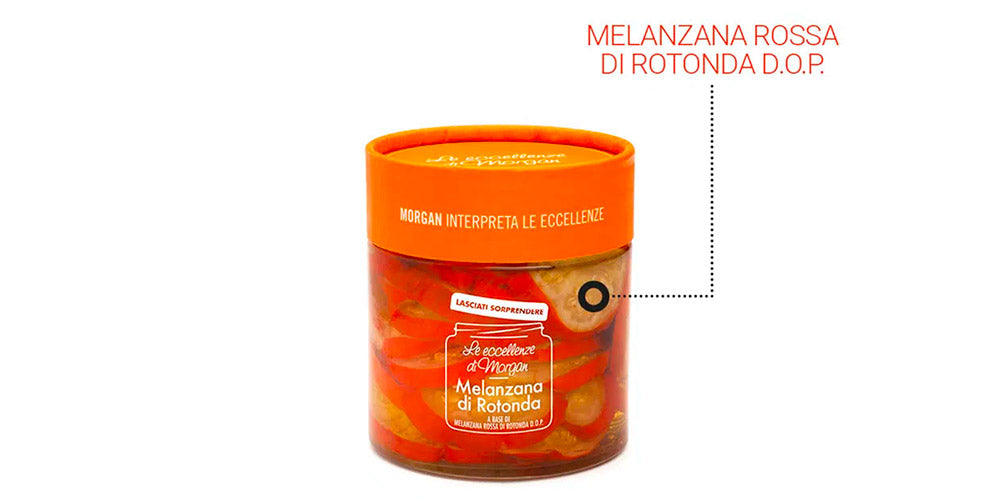 This Excellence encloses all the sun and the sea of Basilicata in a jar. The Red Aubergine of Rotonda PDO looks like a tomato but hides a crunchy heart. From the spicy taste and Mediterranean aromas of aubergine, combined with white vinegar, salt of Cervia, sugar, sunflower oil and extra virgin olive oil, a light and tasty recipe is born, which amazes the palate giving brushstrokes of flavours of the South.

Combinations

The Red Aubergine of Rotonda PDO goes really well with cheeses, grilled white meats and roasts of fish. It can give the character in the filling of a gourmet sandwich or flavour with an unusual touch a simple mixture with rocket and fresh basil.
The product will be available again from September 2022
Tomato and Vanilla Bourbon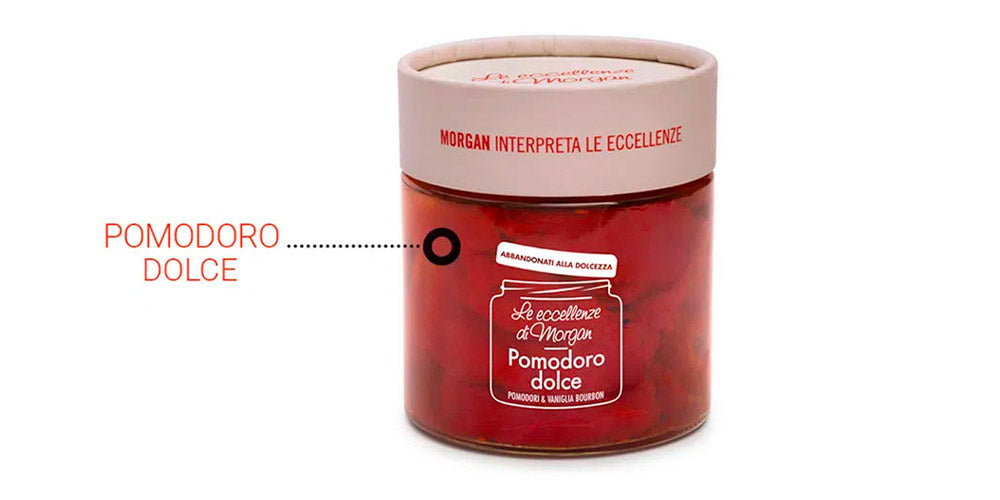 This recipe combines the excellence of the tomatoes of our South, selected according to the availability of harvest (subject to the whims of weather), with the gentle intensity of the Bourbon Vanilla of Madagascar.

The result is a soft and velvety flavour in which the simplicity of the tomato is ennobled by the elegant and exotic touch of the vanilla. The role of the absolute protagonist of the tomato, the fleshy pulp and the predominance of sugar, makes this interpretation of Morgan become the real praise of sweetness.

Combinations

Try this recipe on its own or with a slice of durum wheat bread. It can also accompany fresh or raw fish dairy products. To try added at the end of cooking cold, simply crushed fork to release all its juices and moods, on a spaghetti al dente.
Red pesto of Aubergine from Rotonda P.O.D.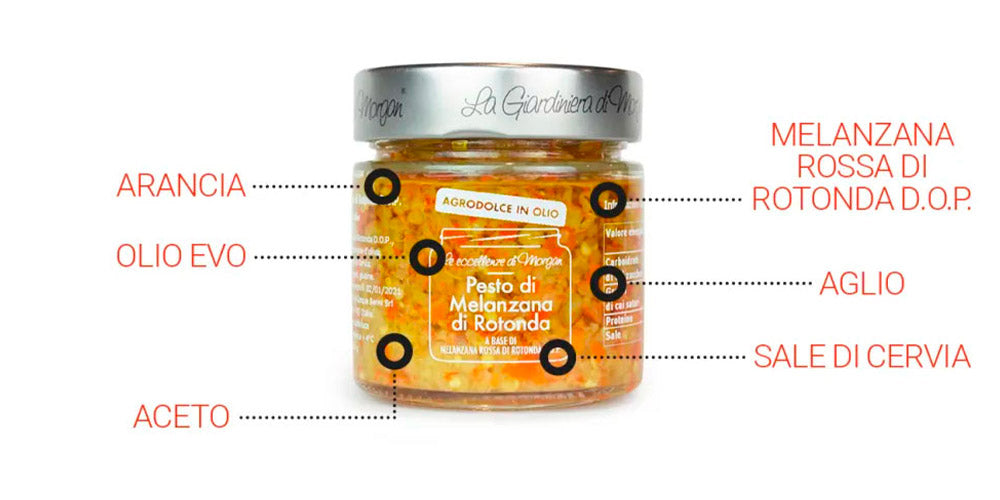 A pesto made with the Red Aubergine of Rotonda PDO, which contains all the sun of Lucania. An aubergine that resembles a tomato, reminiscent of prickly pear on the nose and is gently spicy on the palate, reworked by Morgan in this elegantly rustic pesto, finely beaten, enriched with extra virgin olive oil, fresh garlic and orange blossom.

Combinations

It goes very well with goat cheeses, white meats, grilled fish or steamed, gourmet sandwiches and to season legumes cooked to taste or simply enrich a bruschetta.
The product will be available again from September 2022