Proposals for your wedding favours
La giardiniera di Morgan Wedding
IDEAS FOR A CRUNCHY WEDDING
Do you want your wedding to taste fresh but strong and linger in the memory? So you want a wedding with the taste of a MIXED PICKLE, that of Morgan: something that is not easily forgotten.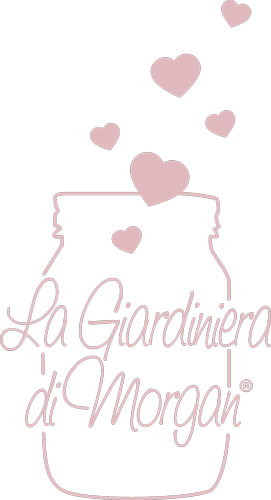 Wedding favours are what you entrust the memory of your wedding. It must be a representative icon of the day, a symbol that encapsulates the values that have brought you there: passion, love for good things, the sense of family. In our mixed pickles, all this is there. OUR MIXED PICKLES ARE GASTRONOMIC SPECIALTIES SIMPLY DELICIOUS.

JUST LIKE YOUR LOVE.
What is your wedding style?
Your wedding will be a mirror of your style. From the location to the setting up to your outfit, everything will be coordinated to create that unique atmosphere that characterises you. For this reason, we have designed special "clothes" for you also for our mixed pickles, so that they are in perfect harmony with everything else.
1. You can request to put your names and the date of the event on the label that we apply on the front of the jar. The text will be printed in white on a transparent label.

2. In addition to the label, we can also provide you with the cover of the cap in the fabrics, features and patterns that you find on the following pages, including the closure ribbon.

The jar will be delivered to you with the custom label already applied, while the cap and ribbon will be separate and managed by the store or by you directly.

To finalise the order, we ask you to fill in the form, indicating precisely the names, date and place of the event, along with the specifications of the supply.
Large sizes
AN ORIGINAL IDEA FOR YOUR WEDDING WITNESSES, PARENTS OR OTHER SPECIAL PEOPLE.
Available in Morgan (1500 ml – 3000 ml – 5000 ml) and Giovanni (3100 ml) recipes, customisable using a transparent PVC label with white text, showing the references of your event.
Buy our gift boxes
PRECIOUS PACKAGING IS AVAILABLE TO FURTHER ENHANCE A GIFT OF CERTAIN EFFECT
1. FSC Certified Cardboard GIFT BOX for Morgan Mixed Pickles 3000ml or 5000mlThe box is reusable as an object holder, to hold spices or to keep your kitchen utensils tidy.

2. TECRON SHOPPER (recycled paper) for the 1500 ml Morgan Mixed Pickles, but also all the other family mixed pickles in normal sizes. The shopper is reusable for your small expenses.

3. Our paper shopper.
OR FILL OUT THE FORM BELOW TO REQUEST FOR MORE INFORMATION